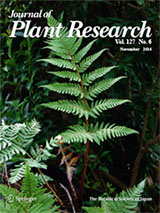 FOUNDATION:

The Botanical Society of Japan was founded as the Biological Society of The University of Tokyo in 1878 by Prof. Ryokichi Yatabe (Professor of Botany) in collaboration with Prof. Edward Morse (Professor of Zoology). The Botanical Society of Tokyo became independent of the Biological Society in 1882 and changed its name to the Botanical Society of Japan in 1931. In 1993 it was reorganized and recognized as a corporation, the Botanical Society of Japan.
PURPOSE:
The Society aims to promote studies of all the fields of Botany and to disseminate botanical knowledge.
OFFICERS (2013-2015):
President: Hiroshi TOBE (Kyoto University)
Secretary-general: Misako KATO (Ochanomizu Univesity)
JPR Editor-in-Chief: Ikuo NISHIDA (Saitama University)
Treasurer: Goro KOKUFUGATA (National Museum of Nature and Science)
MEMBERSHIP:
Membership is open to anyone interested in botany.
Individual membership fee per year (from January to December): residence in Japan 12,000 yen, non-residence in Japan US$ 60
Banker's fee and commission should be paid immediately by the applicant.
-> Download Membership application"
MEETINGS:
Annual meeting accompanied by a board meeting and general assembly is held in autumn by one of ten regional branches of the Society as a host. Oral and poster presentations, symposia and special lectures are given at the meeting.
BSJ78 at Meiji Univ. Ikuta, Kanagawa, 2014
PUBLICATIONS:
Journal of Plant Research (current issue: Vol.127 No.6. 2014)
[JPR information in SpringerLink: About the Journal, Editorial Board, Manuscript Submission. ]
AWARDS:
BOTANICAL SOCIETY AWARDS FOR YOUNG SCIENTISTS were established in 1986, and given annually to a few promising young botanists.